MOVING OUT OF LONDON
After the war we got two rooms in Popham Road, Islington and we were there four years before the council moved us out to a flat near the Edgware Road. I stopped at home and looked after your Mum and then Geoff came along. It was the first time we'd been in a flat. We'd never lived in that district and everyone said it was nasty, but we didn't think it was bad.

That was where Keith was born, in Church Street. Your Granddad was supposed to be looking after me, he hadn't done any nappy washing and my Mum hadn't been up and I got out of bed to wash the nappies and a neighbour, Mrs Reed, looked in my kitchen window and said "what you doing?", she said "open the door" and did the nappies for me and I got back into bed. Because in those days you had lay in bed for nearly a fortnight after you had a baby. That's how your neighbours were in those days. It was a good life.

We moved down to Langley when Keith was four months old. The council came round and looked at our place and said you are overcrowded. Within about a month we had the letter to come and visit this house in Langley. It was absolutely brand new. There were only four families on this road when we moved here. Not all the estate was built, no street lights, no paving. A lot of them moved back to London because they didn't like it, it was too quiet. The first 100 people down here got an invitation to go to the Lord Mayor's town hall to have tea there with him but I didn't go 'cos I had the kids. In the summer evenings you sat on your front wall. Someone would make a pot of tea, another one would bring out a bottle of beer, and someone would make sandwiches. There were only two cars on this street.

Your mum went to Langley Secondary, Geoff went to St Mary's school because the secondary was full so they had to put a couple of classes in a very old village school. Keith went to Langley Secondary.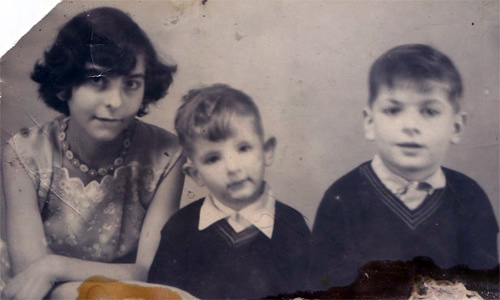 Photo above, Daisy and Ernie's children. Left to right Joyce, Keith and Geoff. Probably taken around 1958 when Joyce was 12, Keith 4 years old and Geoff 8.

Your Granddad kept on with his job, he travelled up to London by train about 6am every day. From Langley up to Sloane Square in Chelsea. When Keith was about 4½ years old I got a part time nursery job at Tithe Court selling flowers, onion sets, cucumbers, garlic, mint and tomatoes. I fed the chickens and collected the eggs that were sold at the farm shop. They were beautiful eggs. The barn was donkey's years old, it was listed and all of a sudden one night it burnt down and there's a load of flats built on it now.

Then I went up to a factory, Norman Hayes, right opposite the airport doing chrome inspection – the rims round headlights, or handles off doors or fridges. I did that for 16 years. Some jobs were piecework and you could earn in a day more or less a bloody week's wages, which wasn't much in those days. I took the job 'cos your Mum got engaged to your Dad and I said 'Christ, I've got to save up for a wedding now' and my friend said well come and get a job at my place and I started there.

We did have an allotment in Langley but it was bloody hard work. It should have been good 'cos it was all farmland. When we moved in there was still chickens running about over there. We were both at work and trying to go over there and weed, and there was no water over there. We gave it up. They've built houses on there now.

There was a big wood yard and they closed that down and built the Harrow Market. You had the Harrow Pub, vegetable shop, Co-op butchers, United Dairies and a post office, a café and Denis the barber. You had bookmakers, Ann Miller dresses, two newspaper shops, and another little grocery shop. A lot different to now. It was a different atmosphere completely.

- - - - - - - - -

In the late 1950s early 1960s where my Mum and Dad still lived, in Holly Street, Dalston (Hackney), they pulled all the houses down and built flats. Their house was like a little country cottage really, it was a lovely little place. As you went out the back door into the garden the toilet was there, built outside.

The council moved Horry and Daphne St. Mary's Cray and Mum and Dad to St. Paul's Cray, Orpington, Kent. The company Dad and Horry worked for, W. J. Gray and Sons, moved to Norwood but they kept their jobs and travelled in.

Nan: "Three generations of Horace Chapman worked at W. J. Gray and Sons. My Granddad, my Dad and my Brother.

Debora, one of my brother's daughters, also worked there in the office for a while".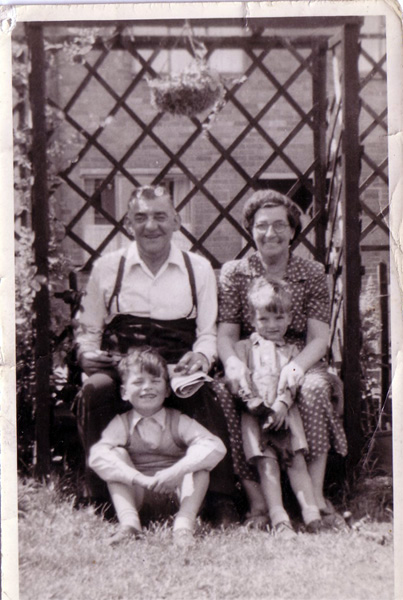 Daisy's Mum and Dad, Horrace and Louisa, with a young Geoff and Keith. Probaly taken around 1956.
previous | 1 | 2 | 3 | 4 | 5 | 6 | 7 | 8 | 9 | 10 | 11 | 12 | 13 | 14 | 15 | 16 | 17 | 18 | next