UNCLE ALF, AUNT BET AND THE SCOTTISH STORES PUB 1941-1950
Aunt Bet was my mum's older sister and Uncle Alf was a carpenter. He had a brother Bobby and sister Emma. Emma had a stall in Oxford Market in Finsbury off the City Road and she sold second hand clothes; a dress for three pence or six pence, underwear for a penny. People were glad to buy them then because times were bad. This was before the war. My mum used to take a basin down to the market and get 13 eggs for a shilling. The basin was for cracked eggs 'cos they were cheaper. She took them home and made a cake with them. Well these days they wouldn't sell you cracked eggs but they did then.

Uncle Alf went to the local pub and he was chatting to the landlord and he said why don't you apply for a pub. So he gave up the carpentry and took over The Scottish Stores in 1940. He lived above it, four bedrooms and a big living room, no garden, only a balcony at the back of the pub.

Aunt Bet always said the pub was a finishing school. Prostitutes; gangs; soldiers; gays. There were a few locals but it wasn't the sort of pub where local could sit and drink properly, most people were passing through. It wasn't a comfortable pub really with the fights and the prostitutes. The prostitutes were lovely girls, they really was. It was a well-known prostitute area. The soldiers would come off the trains, Kings Cross and St. Pancras station. I was in there one night when I was courting your Granddad and two of the girls were shouting across to one another and all of a sudden glasses started coming over, Aunt Bet sorted them out and chucked them out. She'd fight any bloomin Irish man in the pub, chuck 'em out. Another night we had our soldiers in and the Yanks fighting. 'Cos the Yanks started up about bloody limeys and all like that, 'Look at me I'm lovely' and they'd throw the money on the counter and tell you to keep the change. Another night we had a fight between the Yanks and the Canadians and Uncle Alf got on to the Snowdrops, they called them round Kings Cross Station, and they come round with a jeep and just chucked them in the jeep and that was it. There was no sort of 'come on your nicked.' Snowdrops were the military police that wore a white helmet.

We were in the one night and Bella (a prostitute) and some Yank said 'what you gonna have?' And Bella said 'I think I'll have a whisky.' Now she's in the pub every night and Uncle Alf said to her 'we don't sell whisky just the wine and beer'. 'Oh I didn't know that.'

Bobby's wife Pat worked behind the bar and told one American "we can't serve you, we're closed" and he started 'effin and blindin' and "you limeys this". Bobby went round and sorted him out, and he got the Yank against the wall and as he went to punch him, the Yank was so drunk he slid down and Bobby punched the wall and bruised all his bloody hand. It was that sort of pub.

We used to have a couple of gangs that came in there, the Deaf Boys and the Angel Boys, who used to beat the Americans up just because they were American. The Angels gang were rough, like you've got your hooligans now. They were Army dodgers. They made out they had a bad back or something. A lot of them paid the doctor to pass them off as invalids. I don't know how true this story was, but one of them was driving a private hire taxi. One woman in the West End was as pissed as a coot and as she got out the car, he pulled her fur back off her and she was too drunk to notice. They'd shoplift, there was a massive black market on beer and cigarettes and all like that.

One of the gangs was a deaf gang. If there was a fight, Dummy they called him, oh he was a big man, he couldn't talk 'uck off, 'uck off' and they'd look at him and go 'ok mate, ok'. We had a Brindle Terrier and it was a sod of a dog. We had big cast iron tables in the pub and it would knock the tables over. Me and your Granddad tried to take it for a walk; well, it took us. If it saw a cat it would kill it. Dummy used to get hold of it, and that dog would walk by his side like a bleedin' kitten. No one else could take it for a walk, but he could. There was blind man there and he could tell you the filthiest jokes going. Now you'd say to him, where do you learn these jokes and he'd say 'at the blind club.'

Pop Cherry got in the pub one night, he was all on his own and Bet said to him "you can have a room upstairs". He used to do the cooking for them. When they sold the pub, he went into the Chelsea Pensioners, because he was an old soldier.

It was a good pub, but it was rough pub. We used to take Geoff and your mum up there. Geoff was about a year old and we went up there, Christmas time and they had a big parcel. There was a board and easel for your mum, a Meccano set for Geoff. The prostitutes had clubbed together and bought that. They were decent girls. Most of the girls come from up North, they come down to London and got caught in that trade. One of them had two beautiful boys, she showed me a photo, they had little bow ties. They were with her mother.

Geoff: The police wouldn't go near there, they were too frightened. There used to be a copper on the corner directing the traffic and there was a fight one night and your Granddad went up to the copper and he said 'give us hand mate we've got a fight in the pub' 'what pub' 'Scottish Stores' 'f-you' and walked off, he wouldn't come in. The military police used to come round more. I don't think a pub ever got closed down – it was a different time.

Nan: The police did raid now and again. My Uncle Alf knew Bill Lewis who was in at Judge Street police station, and he would tell my uncle there's gonna be a raid. Uncle Alf would tell everyone to 'keep it down will yer.' He couldn't tell them but they knew what that meant. CID would come round and they'd clear the pub.

The gays kept it very quiet. Uncle Alf's barman Arthur was gay, but it was two years before Uncle Alf knew.

They got another pub near to where we used to live, the Royal Oak in Galway Street. That was more of a neighbour's pub. They went to school with some of the residents there. They were there not quite a year and he got cancer in the stomach and they had to give that up and that was it. They moved to a couple of rooms in the same street where the Royal Oak pub was. Little Galway or Ironmonger Street.

When he came out of the pub he was retirement age. He died 3 years later. Aunt Bet never remarried. She'd give you anything. When Joyce and Geoff were small we never had much money, she'd come up with a leg of lamb. Same as my Mum and Dad, with clothes, you didn't ask for it, they just automatically 'ere are, here's a couple of vests, or a couple of pants for 'em. That helped us a lot."

As with so much of this part of London, the area was pulled down and Aunt Bet moved to a seven story block of flats in St. John Street, Islington where she lived 'till she died aged about 87 years.
THE SCOTTISH STORES - at 2-4 Caledonian Road, Islington is now called The Flying Scotsman – a Grade II listed building and a strip club! The external architecture was designed in 1900-1 by Wylson and Long and is on CAMRA's London Regional Inventory of Pub Interiors of Special Historic Interest. Despite the front windows all now being blacked out, there are remnants of a mosaic telling us that the pub was once the Scottish Stores.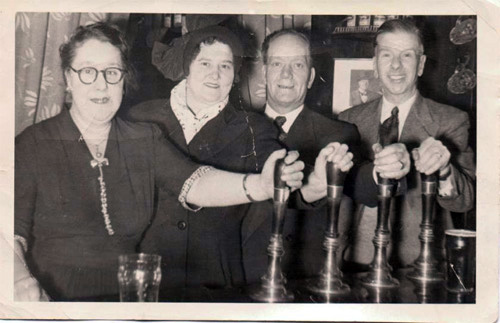 Behind the bar in the Scottish Stores. Left to right, Aunt Bet, Mary, Uncle Alf and Arthur.
previous | 1 | 2 | 3 | 4 | 5 | 6 | 7 | 8 | 9 | 10 | 11 | 12 | 13 | 14 | 15 | 16 | 17 | 18 | next